have a look
FOLLOW LMI
"I'd like to share Christ, but I just don't know how!"

When God gives you an opportunity, just smile, pull out a copy of If We Never Meet Again or What If No One Warned You? and say, "Here's something I think you'll enjoy reading!"

On The Right Tract
Available Issues
For the first time ever...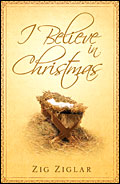 There are times of the year that are "pre-evangelized." By that, I mean that non-believers are already thinking about the time or event that we'd like to use to introduce the gospel.
For example, we've just had Halloween. All kids, whether Christian or not, are thinking about Halloween by late October. That makes them highly receptive to a tract about something that relates to Halloween, even when the "bottom line" is a Christian message. That kind of "no brainer" opportunity is what I mean by a pre-evangelized event or season.
#2 on the pre-evangelized list is…Christmas. People already know about it, look forward to it, and generally enjoy it. It's a God-given opportunity for Christians to replace the frenzy of the season with the real meaning people need to hear.
This year—for the first time ever—we have a [Good News] tract that does that in an engaging way.
I Believe in Christmas! has become the "default" personal Christmas tract for Linda and me. It's fun, biblical, attractive, and clear. It's so upbeat that even a stressed sales clerk will accept it on a December 22nd when it's offered with words of personal encouragement.
So I encourage you to "test drive" I Believe in Christmas. It's a natural with Christmas cards. It's easy to give to people you meet from November 26 to Christmas. Just smile and say, "Merry Christmas! Here's something special about Christmas that I think you'll really enjoy!" You'll find as many opportunities as you want with that simple introduction. And for the first time, you can get a Christmas tract from LMI!
We're socially interactive!
I'm sure that you've heard all about the explosion in "social media," mostly because of Facebook. FB is in second place just behind Google as the most popular website on earth. If it were a country, it would be the world's third most populous—after China and India.
On Monday afternoon, October 25, LMI started getting its share of that crowd. Okay, it's a teensy tiny percentage, but the number of friends who give us a thumbs up is growing daily.
By being more "socially active" we hope to raise the awareness of tract evangelism. We'll feature high-impact tracts available from LMI like I Believe in Christmas! We'll also use Facebook to introduce LMI's national and international publishing projects to new folks. As far as that goes, our FB page will allow you to better keep up with us throughout the year, with at least weekly updates posted on the page.
Of course, we also want active tract users to tell us their experiences in sharing the gospel through tracts. All of us in the "LMI family" will benefit by sharing in that way… which means that people who need God's forgiveness and salvation through Jesus Christ will benefit too!
Tracts were socially interactive long before "socially interactive" was a term! So, this new way of bringing LMI friends and "family" together can't help but be a complement to our mission. Please pray for the ministry of the FB page and the website (www.litmin.org). They have become our strongest connections to present and future tract users.