browse the store
FOLLOW LMI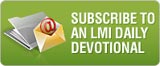 "I'd like to share Christ, but I just don't know how!"

When God gives you an opportunity, just smile, pull out a copy of If We Never Meet Again or What If No One Warned You? and say, "Here's something I think you'll enjoy reading!"

Welcome to the LMI Online Store!
Shop worry free and securely in LMI's store!
Whether you use a major credit card or a PayPal account when buying online, we can handle it. Shop our store, make your choices, then go through the checkout process using your favorite method.
LMI now uses PayPal to process online transactions, but you don't need a PayPal account to shop or donate. The benefit to you is that PayPal works behind the scenes to make sure your order is securely and quickly processed.
We hope you enjoy your experience in our store, and that you'll use our tracts to share the gospel where you live!