browse the store
FOLLOW LMI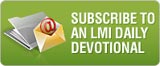 "I'd like to share Christ, but I just don't know how!"

When God gives you an opportunity, just smile, pull out a copy of If We Never Meet Again or What If No One Warned You? and say, "Here's something I think you'll enjoy reading!"

Browse a product
ADDRESSING CATHOLICISM AND SALVATION BY SELF EFFORTS
Clear explanations of salvation by God's grace through faith alone in Christ alone. Written for Catholics and other religious folks who hope that their good works and/or good character will earn them a place in heaven.